Opening remarks-Eskom African Business Leaders Forum 2004

In my view, the high profile of nature of this audience makes it an assembly of the willing and the able. A willingness to debate the challenges of leadership and the ability to do something with the learning we acquire at this forum


With power, anything is possible

Together with the private sector, we should confront the question of the growth in energy demand with a sense of urgency, understanding that access to affordable and reliable electrical power is one of the critical building blocks for the development of the continent.


African Leaders and emotional intelligence

Emotional intelligence is alive and well among African leaders both in the public and private sectors. We have a responsibility to encourage those leaders who can utilise it successfully and effectively for the greater good of all African's and her friends globally.

Challenges facing African Leadership
Sub-Saharan Africa is the only region in the world where the number of people living in extreme poverty has almost doubled,


Business leaders forum emphasizes for action and a focus on delivery
After two days of deliberations at the Sandton Sun Intercontinental Hotel in Johannesburg, South Africa, delegates attending the second annual Eskom African Business Leaders Forum from 13-15 October, 2004, identified the urgent need for a 'new' 'committed' and 'visionary' leadership to confront the 'vexing challenges' facing the African continent.


LEADERSHIP


Rwandan apologises for shame brought to Africa



Nkurunziza said it was time for Africa to start looking at its successes, rather than simply focusing on the negatives.


LEADERSHIP FORUM


EABLF delegates challenge governments to action



Delegates to the Eskom African Business Leaders Forum (EABLF) have challenged African governments to embrace at a faster pace the changes the New Partnership for African Development (Nepad) envisages to help ensure Africa takes its rightful place on the international stage


PICTURES


Pictures of delegates and speakers at the Eskom African Business Leaders Forum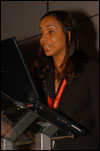 Women leaders essential for growth in Africa
Woman in many parts of Africa still do not have a voice despite, in many cases, comprising more than half the population. In their role as daughters, mothers and wives, there is little room for aspirations of leadership. Yet women who have achieved leadership positions bring a different dynamic to situations.


LEADERSHIP CONFERENCE


Poverty is one of Africa's harshest realities



Poverty and Inequality Report (PIR) South Africa, in per capita terms, is an upper-middle-income country, but most South African households experience outright poverty.

LEADERSHIP OPINION
Nepad is an elitist principle, for now

In its current form Nepad is an elitist principle, faced with the challenge of disseminating its initiatives and objectives to the rank and file of African society

ESKOM BUSINESS IN AFRICA LEADERS FORUM
Former SA president calls on leaders to use window of opportunity

De Klerk said that African leaders had to answer four major questions in order to ensure that Africa takes it rightful place in the world. The first question is that of poverty.


LEADERSHIP AND DEMOCRACY
Strong leadership critical in Africa, says Masire

Africa's need for strong leadership is more critical than in other continents, where the value systems of democracy are already fully rooted,


LEADERSHIP OPINION
Africa ripe for positive reform

Ekong believes that new breeds of leaders on the continent – those that exhibit strength of character, subscribe to principles of good corporate governance and resolve conflicts without fighting – are key to the positive reform he speaks of.



SPEAKERS
Honourable Guest Speakers:
Mr F. W. De Klerk Former President of South Africa; Sir Ketumile Masire, former President of Botswana; Mr Osafo Mafo, Minister of Finance Ghana; Prof Anyang Nyongo , Minister of Planning Kenya; Ms. Phumzile Mlambo-Ngcuka, Minister Minerals and Energy – SA;

Distinguished Speakers:
Reuel Khoza, Eskom Group Holdings Ltd;Thulani S. Gcabashe, chief executive , Eskom Holdings;Dr Yvonne Muthien, Group Executive: Corporate Affairs at MTN Group Ltd; Lemmy Abedule- Regional General Manager, Honeywell Process Solution Africa; Mr. Siyabonga Gama, CEO National Ports Authority SA; Mr. Stanley Subramoney, Deputy CEO of PwC; Mr Chris Kirubi, Chairman Haco Industries, Kenya and many more...




LEADERSHIP FOR PROSPERITY
In October 2004 Eskom, MTN and Business in Africa magazine hosted a remarkable group of African business leaders in the public and private sectors. They explored new challenges and opportunities confronting Africa. The Eskom African Business Leaders Forum addressed leadership issues in Africa by creating a conference platform for proactive and practical responses to current challenges. The forum examined African histories of leadership and mythologies. The Eskom African Business Leaders Forum is Africa's premier event for enabling individuals and organisations to increase personal leadership skills, productivity, profitability and prosperity.

SPONSORS