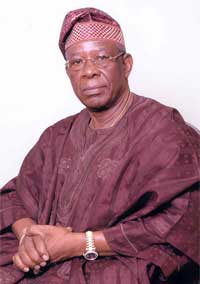 Chief Michael Ade Ojo – Chief Executive Officer, Elizade Group, Nigeria
Chief (Dr) Michael Ade-Ojo is the Executive Chairman of the Elizade Group in Nigeria, a position he has held since 1971. Companies in the Group are Elizade (Nigeria) Limited, Odua Creations Limited, Classic Motors Limited ad Crown Drinks Limited. He holds a BSc in Business Administration and has graduated from a number of special courses, such as the Lagos Business School's Chief Executive programme.
Other past and present directorships include Eterna Oil and Gas Co. Ltd, Chairman, Custodian & Allied Insurance Co. Ltd, Chairman, Toyota (Nigeria) Ltd, Director, National Bank of Nigeria, Deputy Chairman, Lagos Chamber of Commerce & Industry, Chairman, Baun Ltd, Chairman, Imperial Telecommunications Ltd, and Chairman Moorhouse Sofitel Co. Ltd.
Among many personal awards received during his career are ALOHA (A Lion of High Achievement) a Rotary award for outstanding service for 20 years, Ondo State Man of the Year and Doctor of Business Administration Honoris Causa. He holds a number of honorary titles, including Patron of Ondo State University Alumni Association.