April - May 1999
Will Obasanjo deliver?
Nigeria is fashionable again. Potential foreign investors are all over the place. International monitors of the recently concluded elections were of a calibre that few countries have seen, including the United States' Gulf War hero, Colin Powell, and former President Jimmy Carter. Ideology peddlers from the East, led by China, and from the West, represented by, notably, the World Bank and International Monetary Fund, are stepping up on their quest for relevance and, perhaps dominance.
At stake are control of the minds, natural resources and spending of 100 million Nigerians who constitute, potentially, Africa's largest market and provide a potent rallying point for some one billion black people the world over.
Nigeria may today post the 13th lowest capita in the world, but it remains a powerful nation. To be its president can be overwhelming, not just because of the physical splendour the office has retained despite widening poverty, but also because of the competing international attention it attracts.
November 1999
Recover our loot
World Bank President James Wolfensohn last month spent three days in the newly democratised Nigeria, a visit strong in expectations on both sides.
Going by Wolfensohn's pronouncements and programme, the visit had been calculated on his side to signify that the Bank, dormant since 1993 in Nigeria, was back in the policy-driving seat it occupied from 1986 to 1992 when Ibrahim Babangida's regime bloodily implemented the Structural Adjustment Programme (SAP).
The Nigerians on their part had expected a categorical package on what the Olusegun Obasanjo government considers the most pressing economic issue: relief on the country's $31 billion external debt, the full servicing of which would cost more than 50 percent of export earnings. The expectation was hinged on an upbeat letter Wolfensohn had written Obasanjo last August.
An anxious Obasanjo pointedly asked Wolfensohn on arrival to go beyond 'principled support' and concretise matters. Wolfensohn virtually disowned his letter as he said Nigeria must clear its debt arrears, currently some $18 billion, and thereafter service the debt regularly. According to him, "debt forgiveness is not an important element in the restoration of economic growth".
December/January 2000
Chained debtor
The international community's attitude towards Nigeria has always been ambivalent; substantially reflecting the country's own identity crisis. On one level it is the country the world automatically turns to for conflict resolution in Africa. On another, it is derided as a rich fool, which transfers its riches abroad to enrich already rich countries while its citizens grope in the dark and die of thirst.
This is succinctly played out in Nigeria's two-decades-old quest for bilateral debt relief, which began when the debt, now around $32 billion or some 100 percent of GDP, was $17 billion or some half of GDP.
Granted, a part of the problem had been Nigeria's own politically unkempt house, with successive military regimes eager to please outsiders while decimating their people at home and generally making the environment antagonistic to productive multiplication of capital.
A clear opportunity is now here. Nigeria has a democracy headed by someone the Western creditor nations adjudge clean and possessing a clear understanding of the workings of markets.
President Olusegun Obasanjo in words and actions so far has committed himself and his government to the ideals the creditors, led by the US, France, Britain and Germany, lay claim to: social, economic and political freedoms. He is restructuring government processes and overall economy along the paths designed by these countries - individually and multilaterally through the IMF, World Bank and World Trade Organisation.
February 2001
A promising start
The mood of seriousness about domestic issues, which disappeared soon after President Olusegun Obasanjo's inauguration in May 1999, may have returned.
By the end of December, he had passed the 2001 budget without a repeat of last year's five-month brawl with the legislature, which rendered the government-driven economy moribund for half the year.
The Central Bank of Nigeria and Finance Ministry followed up on 2 January with monetary guidelines and tariffs designed jointly to restructure the fragmented financial services industry and build up manufacturing.
This is a promising start to what could be a better year for growth despite disappointing support from creditor governments who, while trumpeting Nigeria's intensifying poverty, are demanding higher debt servicing.
It is to be hoped that optimistic projections bear out because 2000, democracy's first full year in Nigeria since 1983, was dismal. Growth at 2.8 percent was well below the original target of five percent was revised downwards despite high oil prices which sometimes were nearly double the $18 a barrel allowed for in the budget.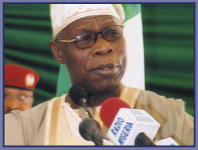 December/January 2002
Crunch time
For all the justifiable negative headlines and continuing frustration of everyday living, Nigeria is closer to being a civilised society today than at any other time in most of the past 20 years.
But 2002, the eve of second democratic elections, is crunch time. It will indicate whether the transition proceeds or reverses. The minefields are many and embrace the economic, social and political spheres.
Long-suppressed ethnic tensions exacerbated by arbitrary military demarcations called states, are erupting into conflicts, which have claimed more than 1,000 lives since 2000.
The PDP itself is dominated by incumbent President Olusegun Obasanjo, which, though ensuring the party behind him, has stripped the party of the healthy dissent germane to healthy policy making and execution. Therefore, what is missing from the party and the wider political circle are power blocs, which serve to counterbalance politics.
Compounding this is the absence in the ring of any kind of statesman able to rally especially the youth to believe in their country again, and thus recapture the soul of the society from staggering lawlessness.
In the pack of present politicians, Obasanjo stands out. But he is yet to exude that natural trait which makes people follow someone for non-pecuniary reasons.
April 2002
Nigeria, post IMF
The Nigerian government may have scored political points by formally withdrawing from the adjustment programme of the International Monetary Fund (IMF) last month, but it was only a matter of time before either side pulled the rug.
The guarded review upon which the IMF based its first Nigeria standby agreement in nine years in late 2000 signified a difficult partnership ahead. Indeed, soon after the government announced the agreement, the Federal Office of Statistics reporting the return of double-digit inflation.
Yet, as with the first time round in 1986, this programme started in 1999 with mutual commendations. The government kept a tight rein on spending, even a suspending fiscal releases and steering clear of central bank borrowing. However, in mid-2000, the screw was loosened and that year, instead of a targeted budget surplus, the government recorded a deficit equivalent to 2.9 percent of GDP.
The stark question though is where does Nigeria go from here? External pressure such as that the IMF represents is some times necessary to, for example, force the central bank to penalise bank's excesses. Beyond that, however, Nigerians need to design an economic programme to meet the needs of their domestic exigencies and be credible with trading partners.
Obasanjo's act of withdrawing his country from the programme will only be justified if he can produce a genuine economic strategy with buy-in from major stakeholders and deliver appreciable results by the 2003 elections.
If he does not do so, the commonly held view that the withdrawal was to allow him a free hand to finance his re-election, may gain credibility.
July/August 2002
Ticking food bomb
It is probably just as well that the Super Eagles failed to fly at the world cup for their good performance would have clouded the real issue in the local council elections starting next month.
For one, Nigeria is facing a domestic food crisis of the proportion last known in the stillborn republic of Biafra during the 1967-70 civil war.
Consequently, the food importation bill, which peaked at $1 billion in 1981 under elected President Shehu Shagari and hovered around $500 million since, may hit $2.5 billion this year.
Obasanjo's special advisor on agriculture, professor Ango Abdullahi, recently said it was running at N250 billion ($2.1 billion) annually, N60 billion of that spent on rice imports. The president added that $100 million was spent on fruit juices in 2000. The government has expressed remorse over the situation. Abdullah, for instance, told a delegation from the West African Rice development Association: "It is saddening that a country that has the potential to produce sufficient rice for local consumption and also supply to neighbouring counties should continue to spend so much scarce foreign exchange on the importation of agricultural products annually."
Obasanjo needs to repay their confidence by rapidly instituting a credible agricultural strategy. Otherwise, Nigeria will be joining the begging queue at the next world food summit.
October 2002
Privatisation fiasco
Whether or not General Olusegun Obasanjo retains office as President of Nigeria in the next few months, the biggest scandal of his government may be the privatisation programme. Deal after deal contracted since 1999 has been unravelling, from the oil companies African Petroleum (AP) and National Oil and Chemicals to telecoms monopoly Nitel. With the stench becoming unsuppressible, the government in August began responding, in British Whitehall style, with committees even as victims gnashing their teeth.
At least two committees are investigating how $3.5 billion (N26 billion) mostly trade debt in AP not only escaped the notice of the privatisation agency Bureau for Public Enterprise (BPE) and the National Council on Privatisation chaired by Vice President Atiku Abubakar, but also regulatory agencies including the Securities and Exchange Commission (SEC) and the Nigerian Stock Exchange (NSE). Sadiq Petroleum happily paid $270 million (N2 billion) for it fences with the deal's financiers.
December 2002/January 2003
Of corruption and elections
In the cacophony of the four-month-long elections starting this month (December), there is a deafening silence on one issue Nigeria badly needs to confront: corruption, which has accelerated since democracy with some $36.8 billion (N5 trillion) in public expenditure melting in three years leaving few traces. The situation is now such that a whole generation of Nigerians have grown up to see corruption, which started in earnest following the oil price boom of the 1970s, accelerating with each successive government, as de rigeur.
Consequently, few make much of their country continuously topping global corruption tables compiled by, among others, Transparency International (TI) co-founded by President Olusegun Obasanjo, and the Organisation of Economic Co-operation and Development (OECD) to whom their country owes most of its $32 billion debt. This is even as Cameroon, which traditionally traded the numbers one and two spots with Nigeria, ranks seventh in this year's TI index. Only Bangladesh, which can plead first time rating, ranks worse than Nigeria.
Daily Nigerian life corroborates the ranking. Nothing is considered off limits. Legislators, by confessions from their ranks, allegedly took bribes to institute impeachment proceedings against both the president and his foes in the leadership of the legislature including Senate President Pius Anyim and House Speaker Umar Na'Abba. They equally allegedly collected bribes to stay action. These are both bribes, not constituency projects for which a parliamentarian in any civilised society might trade his vote.